Hold on to your hats, ladies and gentlemen. It's time for
LiLu's
TMI Thursday
!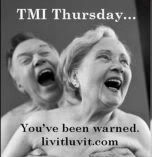 I just spent a week in Seattle and I can tell you this: Seattle rocked my world. Plus, I got to visit with a friend I hadn't seen in about five years.
B and I went to high school together. We "went out" briefly when I was about 15 and he was 16. He used to drive me out to the desert and take advantage of me. I was very innocent and naive back then. This is so not sarcasm. I had never even seen a penis.
Dating, or whatever you call that thing we did for two weeks in high school, didn't really work out so well, but we were friends from about the age of 13 on into adulthood. B was the friend I would make out with when my boyfriend and I split up. Or when we were both single. Always a good time.
We've always loved each other. We even made one of those stupid pacts to get married when we were thirty if neither of us were married. B reminded me of it. I said, "Clearly we were stupid back then." I'm so sweet, right?
Then he moved away and I moved away and we lost touch. I found him years later via some manner or method of social networking. We started talking again and realized how much we missed each other. I went to visit him in New Mexico where we finally managed to have sex. After all those years of making out in the desert on top of his car.
He came to visit me in Dallas a year or so later. And we kept in touch for years after that. The guy I was dating, however, was really really not fond of our relationship and somehow we managed to lose touch again.
Then a couple of months ago, I got an email from Facebook: "B has sent you a message on Facebook!" Could it be? I was so excited, I emailed him right back. Then I called him. Because apparently I'm psychotic when I haven't talked to someone in five years.
We talked for about an hour and all was right with the world. He was still in Seattle. But the weird part was...he had a girlfriend. Like the kind he lived with and had been dating for two years. And B is not the commitment type. I've never even bothered to remember his chicks' names, he goes through them so fast. He's definitely a grass is greener kind of guy. And my grass was always the greenest (most likely because I never fell for any of his shit. Even when I was 14).
And my trip to Seattle was born.
One of my other friends was just about to move, so I would get to hang out with her, too. And the whole thing would rock. I could even meet the girlfriend, she's also B. And they both have long, blonde hair.
B picked me up from the airport and we hung out by ourselves the first night (Monday). We had a great time (for the sake of sounding less like a whore, I won't tell you that he totally kissed me that night). It was almost like we'd never lost touch. I spent the next night with my other friends, and then I got to meet B's B on Wednesday (you know, knowing that I had made out with her boyfriend and stuff. Please don't think less of me. I didn't make the move and I did make it stop). This is confusing, so try to stay with me.
Thursday I hung with B most of the day and then we met his B for happy hour. We were out drinking and having a right good time (what am I, 80?). We stopped at this awesome place with a winged skeletal undead thing for 40s of PBR (for $5!) and shots of tequila. Somewhere in the middle, B's B says something like, "Yeah, if B and I were to have a threesome with another chick, there would have to be rules. I get jealous." Then she walked off to go to the bathroom.
I just looked at B and said, "Um, your girlfriend just informed me that there would be rules if you guys have a threesome with another girl...while she was staring at my boobs."
He said she was all talk and we let the whole thing go.
Friday night, I met B's B for happy hour with her coworkers. I did have to field several things like, "I was really worried about your visit. B made it sound like you were the love of his life and I wasn't sure if I would be okay with you being here and stuff."
In my drunken state I managed to say, "I think that's kind of an exaggeration. We sort of dated briefly in high school, but that's it." Go me. Bonus points for saying the right thing while drunk!
She also mentioned how HOT! I was several times (her emphasis, not mine). Which is fine. I can take a compliment. And I did look really good in that particular dress. In addition to all of this, one of her friends (let's call him J) was busy falling in love with me. He proposed marriage at the next bar. My response? "Dude. I live in Texas. And you play World of Warcraft. I've already paid my dues in that department."
We drank a lot. I did the math later. I had over a gallon of beer.
Then they talked me into smoking for the first time (I'm not talking about cigarettes here. Gross). It wasn't pretty. But then I watched Dr. Horrible and was apparently adorable (B's B's words. See? Confusing!). I stayed at their place and Sunday we were going to hang out in the pool and have a barbecue.
I promise that I'm getting to the good stuff and you will be happy with me if you stick around.
J was supposed to join us sometime in the afternoon, but we got in our bikinis early (except B, he did the man trunks thing), and hopped in the pool. After several attempts at bikini wrestling and one margarita shot that involved licking salt off my cleavage, I had the sneaking suspicion that B's B was interested in acting out her threesome fantasies.
Which is just awkward, okay. I'm sorry, but having sex with your friend (whom you've been messing around with since puberty) and his girlfriend (particularly when you suspect he might be more attracted to you in the sexy time way) is just awkward.
I get it that we're all trying to be cool here. I get wanting to prove to your boyfriend that you're awesome and will totally let him look at another chick naked while you have sex. I get that I was only in town for a few more hours and I seemed like the perfect option. But c'mon. What do I get out of this?
Anyway, sometime in the middle of the afternoon, I realize that B's B has gone MIA. Be comes over to me and says, "Um, hey, (B's) B wants to talk to you about something."
Uh, okay. So I asked where she was.
"In the bedroom."
Oh dear.
I walked back to the bedroom and opened the door and B's B is lying on the bed. She ditched her swimsuit in favor of this...see-through white mesh number with straps all down the sides. Which I have to admit was pretty hot. She held up a short, black, lacy nightie (which was definitely made for her boobs. My boobs laughed at it...) and said, "I was thinking you'd be really beautiful in this. Why don't you put it on?"
At this point, my brain is saying, "This can't really end well. This is such a bad idea. Oh, I've had a lot of beer, just put the damn thing on."
B comes in the room and B's B said, "B, don't you think Shine would be totally hot in this?"
Really, people, what's he supposed to say?
I said, "Don't answer that. For all our sakes."
I was sitting on the bed with B's B and she went ahead and untied my bikini bottoms. I should add here that the two of them had been doing this all day. I'd flashed more boob than I care to consider.
Really it would have been more awkward to get out of this than to just participate. So I said, "All right. I'll put it on. But I don't like to get sticky."
B's B said, "Me either. We can just enjoy each other from the waist up. B can enjoy the lower parts."
Yeah, right. Except mine, of course. Let's not forget the rules.
So we kissed and there was touching and it was a giant pile of sex. It was basically porn. But hotter because we're real people and stuff. At least that's my opinion. Plus, I was there.
Obviously, my lady parts got very little action, but B's B seemed pretty...happy about the whole thing. She was quite...vocal. I was a tad bored with the proceedings though, as once you've had one nipple in your mouth, well, you kind of consider just sucking on your own. But I can do that any time. So I looked up at B and mouthed, "You can really go ahead and finish now..."
And then there was a knock on the door. The front door.
You know. Mid threesome.
B quickly finished and I ran off to the bathroom to put on something a little more decent (read: my bikini). As J was at the door and I suspected that if he saw my boobs he'd probably follow me back to Texas. (They're nice. Trust me.)
We hung out for a few more hours like nothing had happened. J asked me what we were doing when he got there, since it took B so long to get to the door. I said, "I was in the bathroom. I don't know what they were doing." And I rolled my eyes to imply they were probably making the sex. He just nodded. Totally accepting the answer, mind you.
Anyway, a couple of hours later, we were swing dancing in the living room (a couple of hours and many beers), and J kissed me. Seriously? I've just had a threesome, am I not done for the day. I pulled back and said, "J? I live in Texas."
And then B walks over to me and says, "(B's) B needs to see you in the bedroom."
You have GOT to be kidding me.
So we had a repeat of the earlier performance, minus the dress-up clothes, with people SITTING IN THE LIVING ROOM.
My work here is done.